Christmas is here, Get the family ready, make sure the tree is decorated and the presents are under the tree. make sure its a christmas this year that the whole family's gonna enjoy
Take a heap of child-like wonder
That opens up our eyes
To the unexpected gifts in life—
Each day a sweet surprise.

Mix in fond appreciation
For the people whom we know;
Like festive Christmas candles,
Each one has a special glow.

Add some giggles and some laughter,
A dash of Christmas food,
(Amazing how a piece of pie
Improves our attitude!)

Stir it all with human kindness;
Wrap it up in love and peace,
Decorate with optimism, and
Our joy will never cease.

If we use this healthy recipe,
We know we will remember
To be in the Christmas spirit,
Even when it's not December.
Happy Christmas to you all, here are some screenshots of christmas in wow, its the festive season, smile...give out a roar!


Sit down and think, wow another year has gone....wheres life going to take me next year
Relax...Have Fun....And Enjoy What You Have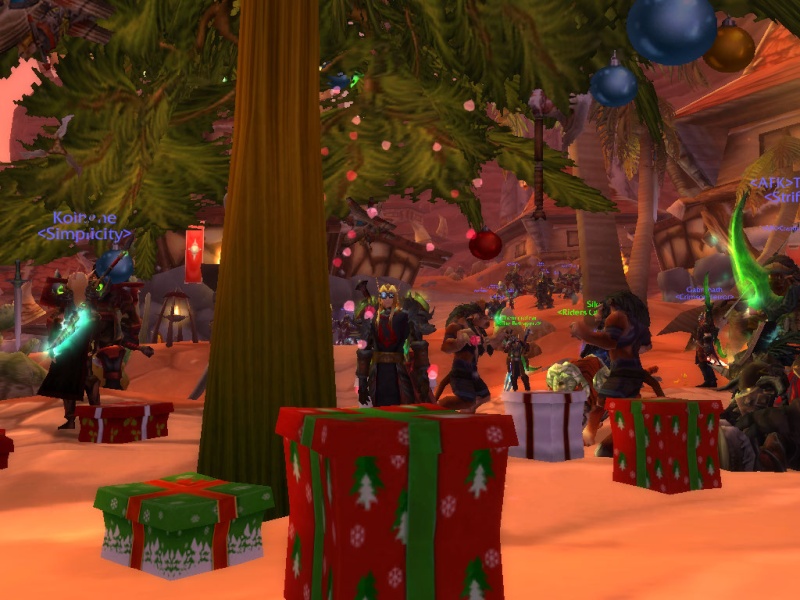 Make this Christmas one you wont forget, with family and friends and everyone you love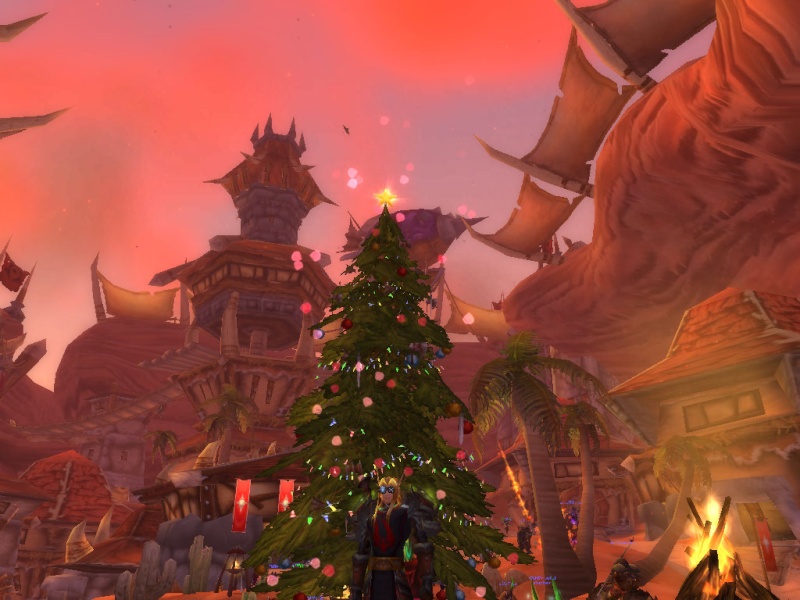 Spread The Christmas Glow...It's Only Comes Once A Year So Don't Let It Go
Take something out of this...dont let it go, i leave you with a message, so it allows you to grow.
Late Christmas Eve, when all was still,
And the room was dark as night,
The Christmas tree lit magically;
It was a fantastic sight!

Then from around the tree trunk now,
There came a funny sound,
As gifts began to unwrap themselves,
And toys jumped out all around.

The music box began to play,
And in a crazy trance,
The candy canes jumped off the tree
To do a silly dance.

The big stuffed bear leaped to his feet,
To see what he could see;
He rode a shiny, bright red bike
Around the Christmas tree.

The new toy kitchen started to cook,
And before you could blink an eye,
The oven door opened, and from inside
Came a tiny pizza pie.

A squirt gun squirted everything;
It knew what it was for;
By the time that it was finished,
A big puddle lay on the floor.

A beautiful doll with golden hair
Was searching for a friend;
A toy soldier marched up and took her hand;
They were a perfect blend.

In the bedroom were a boy and girl;
Asleep in Christmas dreams;
The soldier saluted; the doll gave a kiss;
At least that's the way it seems.

Now everything began to tire;
The toys went back in place.
But when mother woke in the morning,
You should have seen her face.

The tree was fine; the gifts were there,
Yet mother gave a roar;
She looked at her wet shoes and yelled,
"What's this puddle on my floor?"
Merry Christmas


Last edited by SoulPrince on Sun Dec 14, 2008 1:20 am; edited 1 time in total